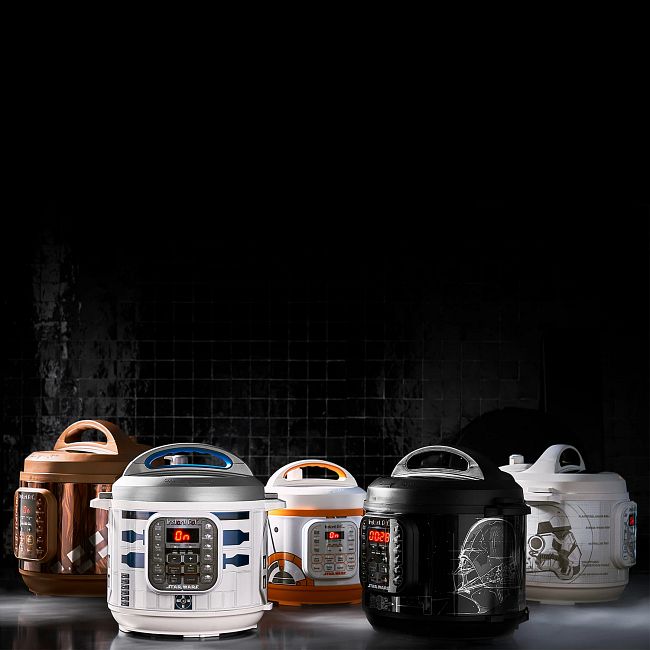 Instant Brands® Star Wars™ Instant Pot® Duo™ 6-quart Pressure Cooker, Darth Vader™
Whether you're a Dark Lord of the Sith, a hungry apprentice or just looking for a way to cook up the Empire's fastest meals, this special edition Star Wars™ Instant Pot 6-quart pressure cooker is here to help.
A tribute to the legendary Darth Vader™, the all-in-one intergalactic kitchen essential offers a whopping seven functions, expertly handling everything from pressure cooking, sautéing and slow cooking to making yogurt. An advanced microprocessor speeds up cooking duration by two to six times, while using 70% less energy than average.
Streamline meal prep with this special edition Instant Pot, starring the iconic Star Wars villain: Darth Vader
7 functions in a single pot: pressure cooker, slow cooker, rice cooker, steamer, sauté pan, yogurt maker and warmer
13 smart built-in programs: Soup/Broth, Meat/Stew, Bean/Chili, Poultry, Slow Cook, Sauté, Rice, Multigrain, Porridge, Steam, Yogurt, Keep Warm and Pressure Cook
Large LED display is easy to read, so you can quickly check on cooking progress
Delay start up to 24 hours ahead of time
Pressure-cooker setting allows for up to 4 hours of cooking time
Slow-cooker setting has 3 temperature levels and can be programmed to cook between 30 minutes and 20 hours at each level
Sauté and browning settings have 3 temperature levels for simmering, browning and stir-frying
Yogurt-making function heats milk for pasteurization and fermentation
Keep Warm setting keeps food warm up to 10 hours – and can be manually adjusted to stay warm for almost 100 hours
Download the free Instant Pot app to access 1000+ recipes, tips and more
Includes stainless-steel steam rack with handles and condensation collector
© & TM Lucasfilm Ltd. All rights reserved
starwars.com
Dimensions
12'' length x 13'' wide x 12.5'' height
*All measurements are approximate.
InstantBrands™ Limited Warranty
This Limited Warranty is effective for one year from the date of original consumer purchase. Proof of original purchase date and, if requested by an authorized representative of Instant Brands Inc. ("Instant Brands"), return of your appliance, is required to obtain service under this Limited Warranty. Provided that this appliance is operated and maintained in accordance with written instructions attached to or furnished with the appliance, Instant Brands will, in its sole and exclusive discretion, either: (i) repair defects in materials or workmanship; or (ii) replace the appliance. In the event that your appliance is replaced, the Limited Warranty on the replacement appliance will expire 12 months from the date of original consumer purchase.
This Limited Warranty extends only to the original purchaser and use of the appliance in the United States of America and Canada. This warranty does not cover units that are used outside of the United States of America and Canada.
Any modification or attempted modification to your appliance may interfere with the safe operation of the appliance and will void this Limited Warranty. This Limited Warranty does not apply in respect of any appliance or any part thereof that has been altered or modified unless such alterations or modifications were expressly authorized by an Instant Brands representative.
Limitation and Exclusions
The liability of Instant Brands, if any, for any allegedly defective appliance or part shall in no circumstances exceed the purchase price of a comparable replacement appliance.
This Limited Warranty does not cover:
Damage resulting from accident, alteration, misuse, abuse, neglect, unreasonable use, use contrary to the operating instructions, normal wear and tear, commercial use, improper assembly, disassembly, failure to provide reasonable and necessary maintenance, fire, flood, acts of God or repair by anyone unless directed by an Instant Brands Representative;
Repairs where your appliance is used for other than normal, personal use or when it is used in a manner that is contrary to published user or operator instructions; or
Use of unauthorized parts and accessories, or repairs to parts and systems resulting from unauthorized repairs or modifications made to this appliance.
The cost of repair or replacement under these excluded circumstances shall be paid by you.
Disclaimer of Implied Warranties
EXCEPT AS EXPRESSLY PROVIDED HEREIN AND TO THE EXTENT PERMITTED BY LAW, INSTANT BRANDS MAKES NO WARRANTIES, CONDITIONS OR REPRESENTATIONS, EXPRESS OR IMPLIED, BY STATUTE, USAGE, CUSTOM OF TRADE OR OTHERWISE WITH RESPECT TO THE APPLIANCES OR PARTS COVERED BY THIS WARRANTY, INCLUDING BUT NOT LIMITED TO, WARRANTIES, CONDITIONS, OR REPRESENTATIONS OF WORKMANSHIP, MERCHANTABILITY, MERCHANTABLE QUALITY, FITNESS FOR A PARTICULAR PURPOSE OR DURABILITY.
Some states or provinces do not allow for the exclusion of implied warranties of merchantability or fitness, so this limitation may not apply to you. In these states and provinces, you have only the implied warranties that are expressly required to be provided in accordance with applicable law.
Limitation of Remedies; Exclusion of Incidental and Consequential Damage
June 19, 2018