The meal bowl takes center stage
Bowls can do so much more than soup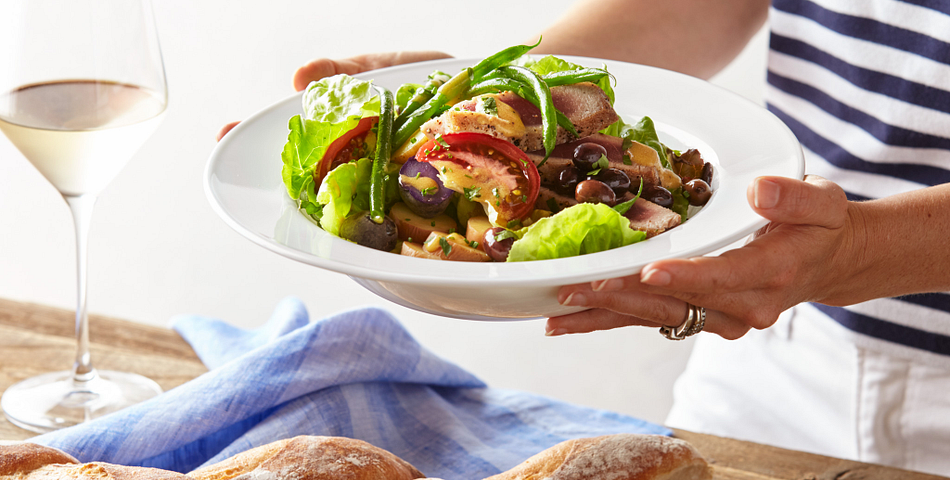 With the rise of ramen, Instant Pot® meals, and salad suppers, the bowl has shifted from a side support role to a key dinnerware piece. Whether you're eating a poke bowl with friends at the dinner table or enjoying stir- fry from your favorite perch on the couch, your whole meal can easily become a one-bowl success. Try these tips for some easy inspiration.
Building the perfect meal in a bowl
There's no wrong way to build a meal bowl. But there are a couple of things that can make it easier to eat and delicious to the last bite. Start with a healthy grain—brown rice, quinoa, farro, or bulgur—to provide a solid base and a great place to catch yummy juices or sauce.
Our simple crowd pleaser: the chicken quinoa burrito bowl. Simply grill chicken, sauté a few veggies like onions and red and yellow peppers, and crumble some cotija cheese.
To serve:
Give everyone half a bowl of quinoa
Divide the chicken and veggies into each bowl
Top with crumbled cheese.
It's super easy to make this meal into a fun, choose-your-own-adventure dining moment by providing a selection of toppings. Put out corn salsa, guacamole, cilantro, limes, and Greek yogurt then let everyone customize their bowl to their heart's content. This is a great way to get your picky eaters excited. To save time, prepare your grain of choice in advance and store it in an airtight container in the fridge for up to a week.
 
Raise the (salad) bar

Getting the kids to eat their greens can be a little difficult sometimes. A fun, physical way to get them involved is having a "toss your own" night. Make the salad the main course. Serve salad greens in deep bowls and arrange the rest of the toppings for everyone to mix and match.

The key to a dinner salad is making it hearty enough, so remember the protein—grilled chicken or shrimp work well, as do black beans and chickpeas for vegetarians. Present a mix of veggies like cherry tomatoes, sliced cucumbers, onion, edamame. Include add-ons like a sprinkle of cheese. Variety is great when it comes to customizing your salad, so include multiple dressings so everyone can make it their own.
Once your kiddos have built their salads, transfer each to a container with a locking lid then let them shake and shimmy to coat their salad with dressing. The salad shake is a great way to get your kids involved without making a mess. After the perfect "toss", transfer back to their salad bowls. Like most meals, success with younger eaters is going to come down to the flair, so include some fun final topping like croutons, tortilla strips, bacon bits or even popcorn to add some pizazz.
Stew over it

It might be the arrival of crisp fall weather, or maybe it's just the resurgent popularity of slow cookers, but a bowl of thick, hearty stew just feels like the right call. The appeal is obvious—it's a filling, warming meal that gets better the longer you let it cook.
Consider an Asian-inspired take on classic beef stew—add soy sauce and ginger to the usual lineup of beef, onions, carrots, and potatoes. Dress up a vegetable stew with an Italian flair using cannellini beans, kale greens, and torn Ciabatta croutons. The thing about comfort food is that improvisation is encouraged. When it comes to a long simmer, the more flavors, the merrier.
Bring the Big Island to your table
From five-star restaurants to food courts, poke bowls––a Hawaiian, raw seafood delicacy––has gained mainland popularity. Pronounced "POH- kay," this dish is a great way to introduce your family to culinary exploration. The flexibility of this delicious one-bowl dish ensures each person can design their meal exactly how they love it.
The perfect poke bowl starts with these key steps:
Using sushi-grade tuna from your favorite market, chop them into quarter-inch cubes. If fish isn't for you, try tofu.
Marinate the cubes in the fridge with chopped onions, sesame oil, soy sauce, and your favorite hot sauce.
While that marinates, get your bowl base ready. Most poke bowls typically use a starch like white or brown rice. Need a low-carb option? Try spiralized zucchini––aka zoodles.
Lastly, flex your creative prep skills. This is where your palate can do the talking. To partner well with the soft rice and fish, prep cold and crunchy additions like shredded carrots or sliced radishes. Include the creamy addition of avocado to pull together the disparate items in the bowl. For more adventurous versions, try kimchi and seaweed.
Once everything is ready, set up your in-home poke buffet and let everyone start bowl building. Top off the bowls with a selection of wasabi, spicy mayo, or even fruit. It's a fresh, flavorful, and healthy way to make a memorable meal.