Use this decorator-favorite color to land a new look
From kitchen to table, bring out the blue
We all spend a ton of time in the kitchen. From snacking around the island to sharing the day's details over a simmering dinner pot, the way we use the kitchen is evolving to be as much a social space as one for cooking and dining. So when it's makeover time, this space is a great one to tackle. Today's color of choice for kitchen makeovers is definitely blue.
Not only are there so many versatile tones and hues to explore, but blue can improve concentration, enhance creativity, and promote a sense of calm. Great traits for the heart of your home!
Not ready to commit to a big project? You can still feel a difference with only a few color-coordinated tweaks. We've pulled together these simple steps to see what blue can do for you.
Find your wave on the spectrum
If you've ever looked at the paint swatches in your local home improvement store, you know that when it comes to blues you have options. Let the variety inspire instead of overwhelm you and use Pinterest and design blogs to help build your vision for a fresh space.
Looking for luxury or a more sophisticated feel? Try darker blues. Navy pairs well with:
warm woods like walnut
white finishes like quartz countertops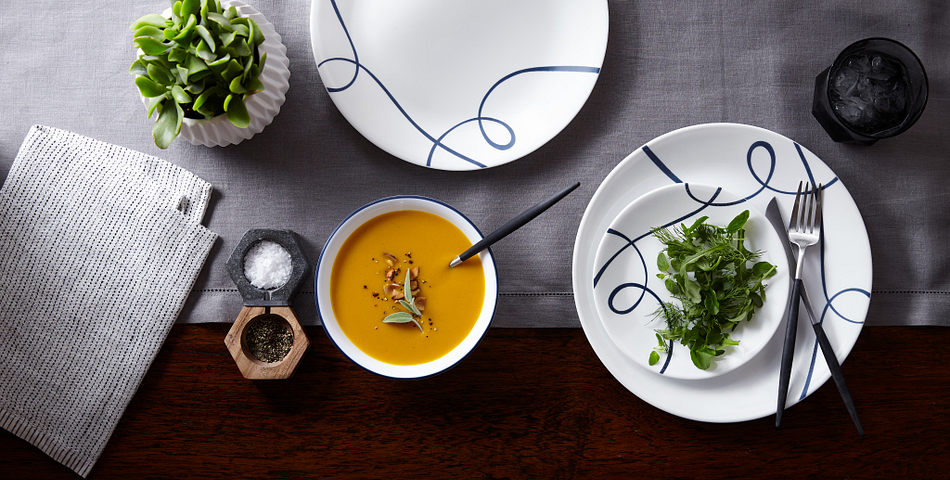 Interested in a cooler, more casual space? Try lighter blues. These pair well with
light furniture like white kitchen dining table
bold accents like gold fixtures or a bright orange statement piece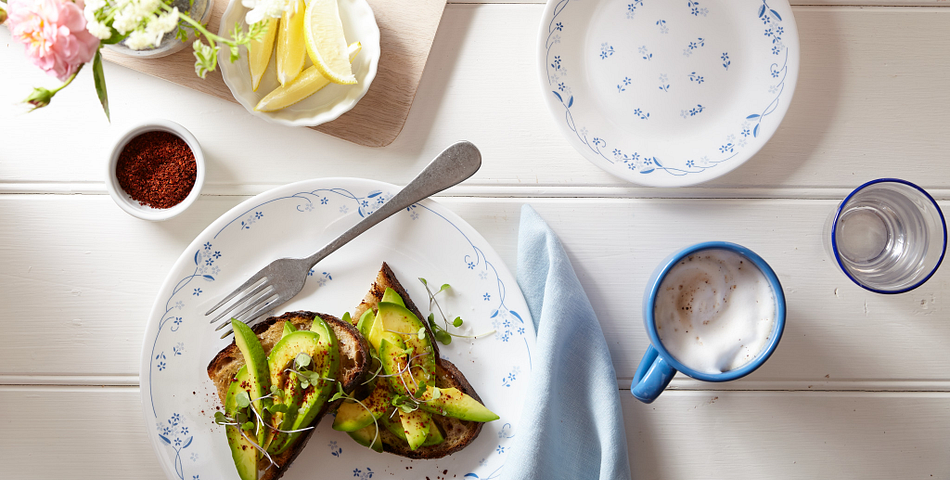 Pick your spots
Boost the mood of your kitchen with some well-placed pops of blue. Show off your bright blue Dutch Oven on the stovetop or drape indigo dish towels neatly on drawer pulls. Don't forget your feet. Add a blue runner in the narrow space between your island and sink––a popular option in many kitchens today.
Put it all on the table
One of the simplest ways to explore the blue trend is to create a color-coordinated tablescape, from serveware to dinnerware. You can make it as subdued or as funky as you like, and you never have to set the same table twice.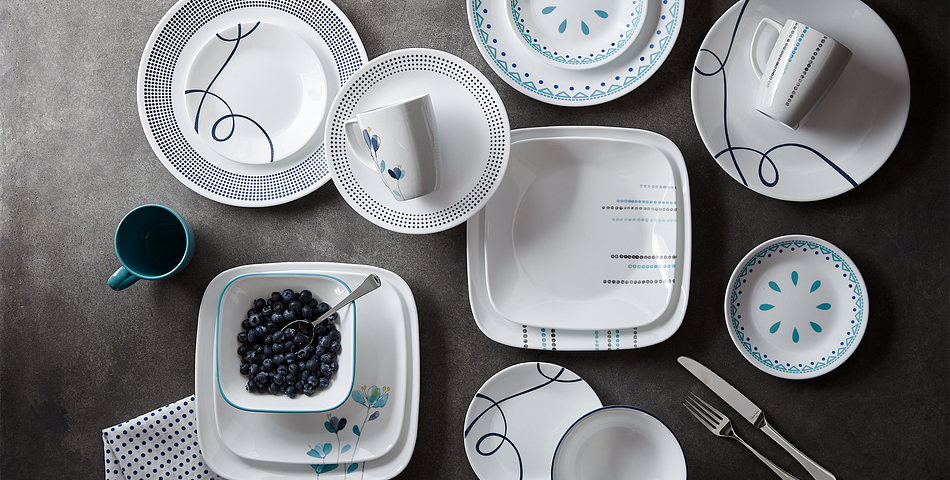 Understated
Experiment with a blue patterned tablecloth, complementary linen napkins, and neutral white tableware for balance.
Modern
Pairing your blue plates with gold flatware and tinted glasses.
Fun
Use your neutral white tableware as your "base layer" and mix in your bold blue patterned plates for a perfect mix-match marriage that always feels fresh.
Be sure to keep centerpieces seasonal and simple—from hydrangea to delphinium to aster, a floral infusion of blue always adds a stylish touch.
Have a blue Christmas (or any other holiday)
The beauty of blue is how well it works seasonally.
December
Instead of the traditional holiday red and green motif this year, try blue and silver for a look that's wintery and sophisticated. Borrow some greenery and a few glass ball ornaments from the tree for an appropriately festive centerpiece, then let your plates and utensils do the rest.
New Year
Midnight blues and gold ring in the new year with sophisticated style. Serveware in these shades helps set the mood for your party.
Springtime
When spring rolls around, a light blue-and-white-themed table is perfect—especially when punctuated by bright linens, soft floral accents, and some speckled touches, like dyed eggs.
In most cases, when you decide to go blue, keep your complementary colors muted. Two dominant colors such as blue and red can overwhelm your table. Unless it's the Fourth of July, in which case…proceed with the barbecue.